VIP Mentorship & Mindset
HANds-On Training with gary & Darlene
When Darlene and myself first started investing in real estate it was very difficult to figure out all the ins and outs and most importantly how to assess our risk. We knew we were exposed financially and if either of us lost our jobs we were at risk of losing our house, defaulting on our loans, and of not having enough money for our future. We have over a decade of experience in real estate investing and are proficient in many strategies. Our current portfolio includes; buy & hold, BRRR's, rent to own, 2 unit conversions and JV partnerships. 
This VIP Mentorship program is designed to offer hands on real estate coaching for individuals that  want to make a commitment and purchase a real estate property in the next 6 months. We have all the tools to help you succeed but more importantly we have a proven method.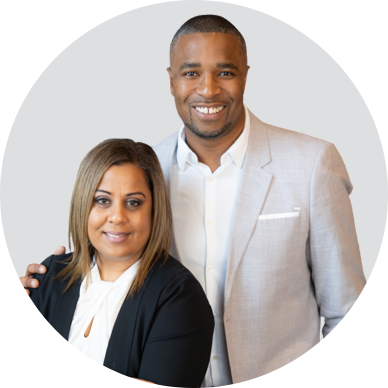 1:1 VIP Mentorship 
For individuals that want to commit and need hands on training. 
Monthly 1 hour group coaching calls
Monthly 1 hour private coaching calls
Reverse engineering your lifestyle – Determine your income
Time management and how to effectively use your agenda
The history of money and understanding the difference between money and currency
Understanding the 4 quadrants of EBSI
Analyzing the 4 major fundamentals of a city before purchasing
Rental & ROI analysis worksheets with case studies
Tenant screening training
Goal setting & planning sessions
Real Estate portfolio planning
Joint Venture prospecting techniques
Identifying real estate strategies (BRRR, multi-unit etc…)
Revenue analysis for future wealth building
Recommended video & reading material
VIP Mentorship
Up to 2 people
Book a call if you would like to discuss if our program is right for you. 
*BONUS-  Get our Smart Home Choice Platinum Membership for 6 months free.  **New coaching participants only.
Live Consulting
For individuals or groups that would like to discuss any current real estate deals or are seeking extensive advice.
Individuals $150/hr
Up to 2 people
Groups $300/hr
More than 2 people
*Prices do not include HST
They not only advised us on what to do but showing and teaching us along the way. They were transparent by sharing their bumps and trials that they have encountered along the way and made it easy for us to move forward. And by doing so we've gained experience and knowledge. In 8 months we now have 2 properties in our portfolio that are long-term holds and looking out for more opportunities.
I decided I would invest in Real Estate and met with a Financial Advisor. After discussing with her my future dreams, I left her office with a broken heart. I didn't give up. I was convinced that Real Estate Investing was the best way of building equity however, at that time in my life I didn't feel I was able to accomplish this dream. 
What I was missing was the guidance, education and the push. My daughter had already invested in 3 homes…she introduced me to Gary and Darlene.  from Smart Home Choice.
Within 6 months of meeting Gary and Darlene, I was the owner of my first beautiful investment property in Bowmanville. I didn't stop there! 3 months passed and I purchased my second investment property (a detached home).  Finally, I completed my 3rd property shortly afterwards. 
Thank God for Gary and Darlene. Ever patient, they worked diligently with us to acquire that first property. But year-end was fast approaching and we still had not found the one my husband and I could agree on. Not only did we manage to do that in the nick of time (Dec). Hurray! But we were able to agree on something that we were both comfortable with. We all breathed a sigh of relief (Darlene & Gary included). But unlike the majority, only a few ensure that it is good debt. I was pleased that Clint and I had finally joined that elite few. We are now more than ready to take the plunge again at the first opportunity – hopefully this time it will not take us as long!